Dr. H.F. Flynn Jr. & Dr. Mark H. Flynn
229 Delaware Avenue, Oakmont, Pennsylvania. 15139
1.412.828.8700
Welcome to Flynn Chiropractic
As a recipient of the 2015 Reader's Choice Award for Best Chiropractors in the region, Flynn Chiropractic provides the highest quality traditional chiropractic treatment for work and sports related injuries, headaches, sciatica, and neck, back, and shoulder pain.
Flynn Chiropractic offers a range of services, including:
Treatment for spine, pelvis, and extremity-related pain and discomfort
Accidents and sport injury treatment
Exercise instruction
Custom orthotics
We employ both time-tested and cutting-edge techniques and technologies in our services, including:
EMS and ultrasound
Trigger point therapy
Accupressure
Custom Orthotics
We utilize innovative, medical-grade foot orthotics from Sole Supports. These custom-fit orthotics are developed from a mold of your feet, which we capture in our office. The custom fit ensures that the orthotic maintains constant contact with the sole of the foot. This contact provides full arch support, providing posture correction that helps to rectify walking mechanics, in turn treating chronic lower extremity, hip, and back pain.
Products
The practice promotes the use of fish oil and other nutritional supplements, such as Vitamin D, for supporting a balanced, healthy diet. Products from Nordic Naturals and Thorne Research are available for purchase at our office.
To help treat muscular pain and soreness, we use Biofreeze, the #1 clinically-recommended topical analgesic. It is also available for purchase at our office.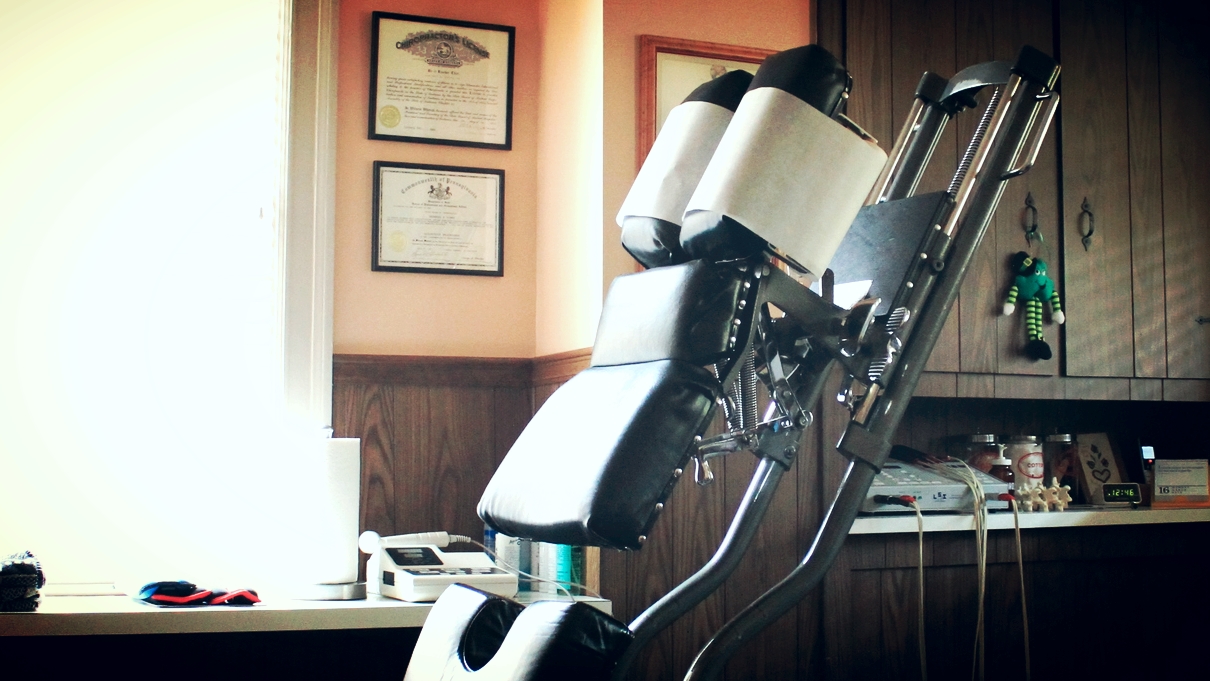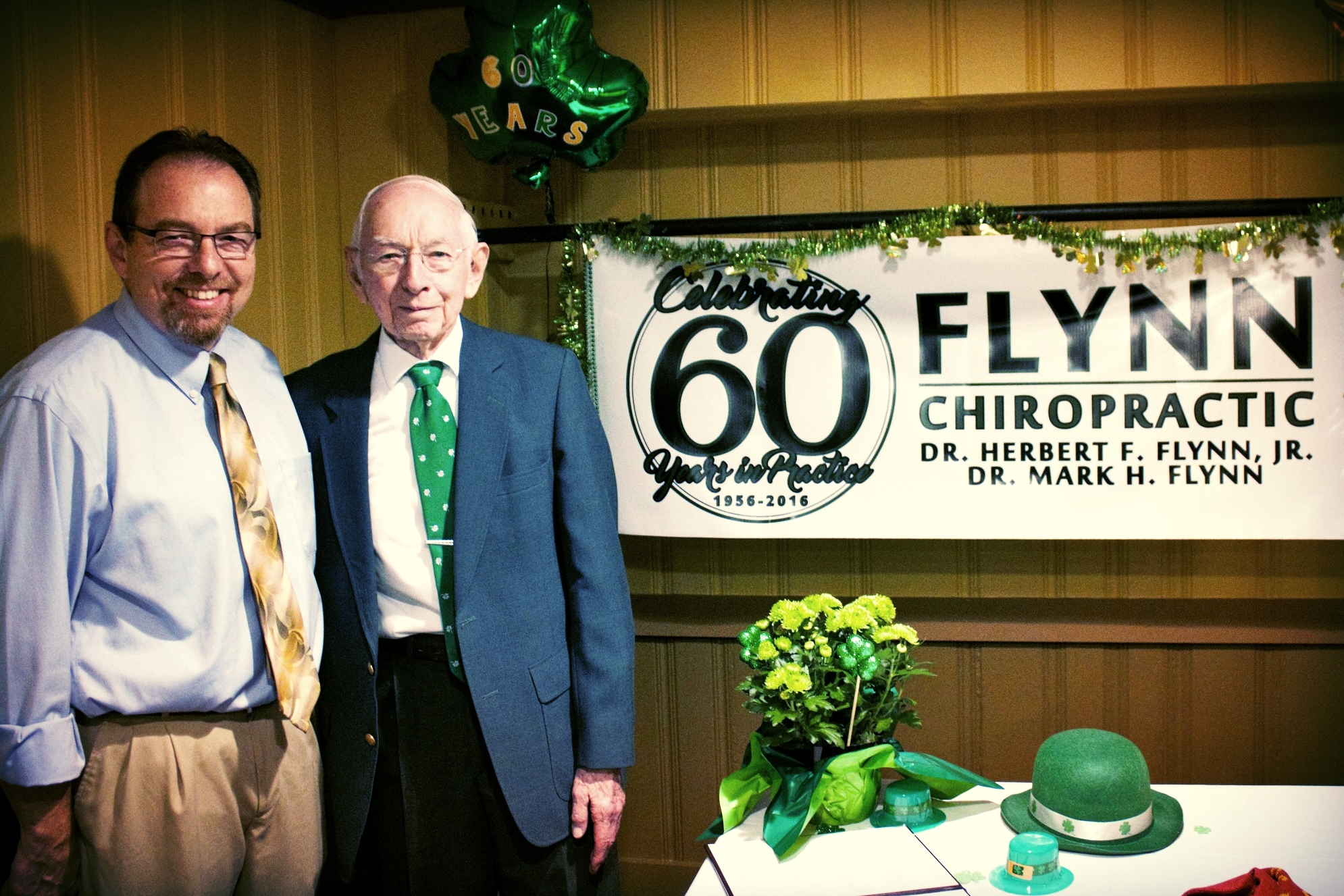 The Doctor of the future will give no medicine, but will instruct his patients in the care of the human frame, in diet, and in the cause and prevention of disease.
Thomas Edison
With over 80 years of combined experience, Dr. Herbert F. Flynn, Jr. and son Dr. Mark H. Flynn have been providing chiropractic care in Oakmont, PA since 1956.
Both doctors frequently attend continuing education seminars and keep up with latest developments in chiropractic, medicine, and nutrition.
Dr. Herbert F. Flynn, Jr.
Dr. Herbert F. Flynn, Jr. served in the U.S. Merchant Marine after graduating from Oakmont High School. After a brief stint as a purchasing agent, he served in the U.S. Army during the Korean War. He completed his pre-chiropractic studies at the University of Pittsburgh, and graduated from Lincoln College of Chiropractic in 1956. That year, he opened his practice in Oakmont in collaboration with his father, Herbert F. Flynn, Sr.
2016 marked his 60th year in practice - he has spent the last six decades diligently and devotedly serving the residents of Oakmont and the surrounding communities.
Office Hours
Dr. Mark H. Flynn completed his pre-chiropractic studies at the University of Pittsburgh before attending the National College of Chiropractic in Lombard, Illinois. He received his Doctor of Chiropractic in 1987, and has been practicing with his father since then. He is committed to helping his patients enhance their quality of life by improving their ability to function, and reducing the pain associated with musculoskeletal problems through chiropractic, nutrition, and lifestyle changes.
Mark enjoys skiing, golfing, and hiking. He participates in charity bicycling events such as the MS 150 and the Diabetes Tour de Cure ride.
Office Hours
Our History
The origins of Flynn Chiropractic stretch back to H.F.'s father, Herbert F. Flynn, Sr, who, at age 27, began inexplicably losing weight and strength. He was told by medical doctors that due to an un-diagnosable illness, he had less than a year to live. Not resigned to such a fate, he sought the opinon of John "Bonesetter" Reese of Ohio. After receiving treatment, his stomach ailments ceased, and his strength soon returned. Subsequently, Herbert Sr. ventured into 'bonesetting', an early form of chiropractic.
H.F. followed in his father's footsteps, attending Lincoln College for his degree in the early 1950s and opening the practice in 1956. His late wife, Betty A. Ernst Flynn, worked tirelessly as office manager and receptionist until shortly before her passing in 2004. H.F. was joined by his youngest son, Mark, in 1987, and the two have been practicing side-by-side ever since.
We would love to have you as our next patient!
With up to third and fourth generations of family members visiting the office, the Flynns maintain a friendly relationship with their patients. Many members of the community, including fellow doctors, police, students, coaches, and teachers, travel from around the corner, Erie, Youngstown, and even as far away as Florida to Flynn Chiropractic.
We are located in Oakmont, Pennsylvania, approximately 11 miles northeast of Downtown Pittsburgh and easily accessed from Route 28 (via Freeport Road) and the Pennsylvania Turnpike.
Give us a call and let us set up your next visit!